A Smart Bike for real cyclists. Exercycle has been created for those who appreciate the details which bring them closer to real cycling when they decide to practice at home. Its geometry, its exact watts measuring, and its wide array of connectivity options make the perfect indoor bike for the most demanding cyclists out of it.
The cooperation between BH Fitness and BH Bikes has been useful to join the best of two worlds. BH Fitness's experience in the world of indoor sports machines and BH Bikes' knowledge when making road bikes which are a worldwide referent gather together. Pedaling on a BH Aerolight from the comfort of your living room is possible now. No bothering noises, no difficult rollers, and no need to touch your habitual bike.
Exercycle has been launched as the Smart Bike a cyclist would design. All those small details which allow cyclists to see Exercycle as a friendly machine have been listened to and worked on. The starting point has been the BH Aerolight's geometry, so the first time you pedal on the Exercycle will take you straight to what you feel when cycling on the road.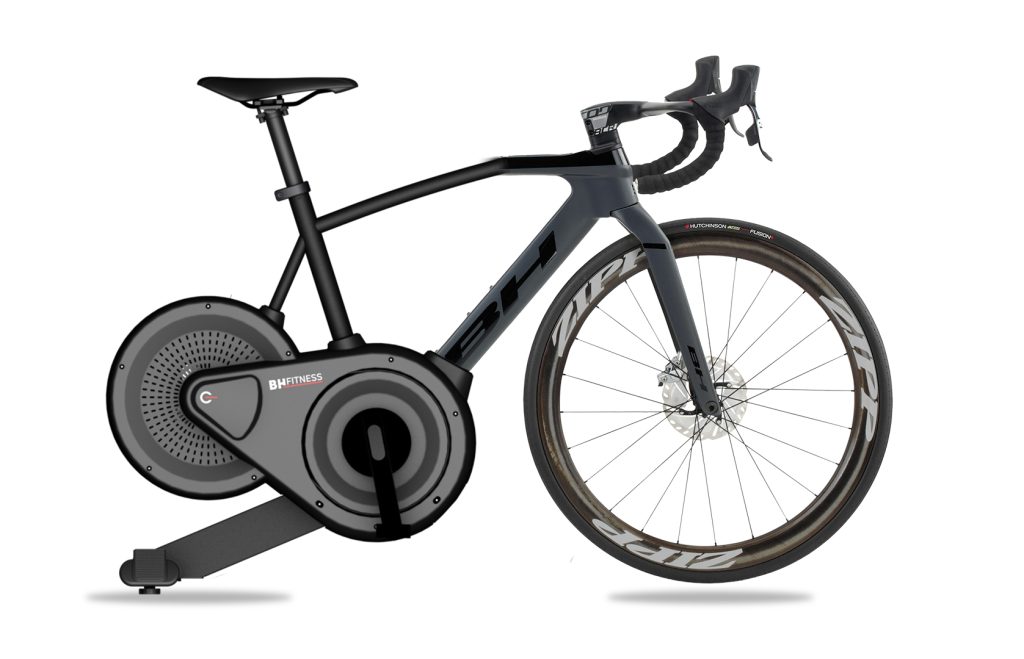 Having the possibility of customizing the contact points with a bike is a key aspect for the feelings experienced cyclists have when using a stationary bike. For that reason, Exercycle allows you to use your own seat and your own pedals, besides all the different position fitting options you can imagine. Thanks to this fact it covers the equivalent to bike sizes from S to XL. A very reduced Q-factor (the distance between connecting rod shafts) has been achieved -only 5,98425 inches-, another aspect which brings Exercycle closer to the pedaling feelings we have on a road bike.
Not only is the position important when copying outdoor cycling on Smart Bikes. The way in which resistance is applied is vital to sense a natural effort. That is why the EMS resistance system, an electromagnetic system which copies the resistance we sense on the road, has been used. This system is also used on other fitness machines, but which we rarely find on smart bikes such as Exercycle. Modifying resistance is as simple as resorting to the gear shifters integrated on the levers, a completely intuitive gesture which, besides, allows us to modify resistance without taking our hands out of the handlebar. Also, to reinforce the feeling of a real bike its structure has been provided with a certain degree of flexion, to get away from the anti-natural stiffness stationary bikes normally transmit.
Exercycle is packed with technology. First of all, it has a precise power meter, an essential tool to thoroughly value our effort. It also has an LCD screen in the center of the handlebar which gives us a direct sight of a great deal of information. It has an ftp-test to calculate the watts threshold, a Polar 5KHz telemetric heartbeat receiver and an FTMS Bluetooth module which allows a complete compatibility with the main cycling simulators. You can either log in to Zwift, Kinomap, Rouvy or Bkool with no trouble and make the most of everything virtual cycling offers or take part in their online competitions with the best possible conditions.
Regarding its esthetics, pictures speak for themselves. Exercycle has a compact and restrained design with many esthetic signs of a real bike. Everything it needs to become the true cyclists' Smart Bike.
Meet the new Smart Bike Exercycle.