Recumbent bike
LK
7750
This recumbent bike with interactive monitor and internet connection possess an added value thanks to the wide range of possibilities it offers. The best comfort provided by its breathable backrest and the option of choosing the between an improved LED monitor and interactive monitor with internet.
POLI-V BELT
Transmission System: Poly-V belt drive system to ensure silent exercise and minimal maintenance
TRANSPIRABLE BACKREST
Highly breathable seat with lumbar support
QUICK TRAIL CONTROLS
Quick trail controls with pulse sensors and the most used controls during the exercise.
OPEN SPACE BETWEEN SEAT AND HANDLEBAR
Open space between seat and handlebar for maximum accesibility
Compatibility of
CONS
OLES
Choose the option that best suits your center, the simplicity and efficiency of LED monitors or the total connectivity offered by SmartFocus.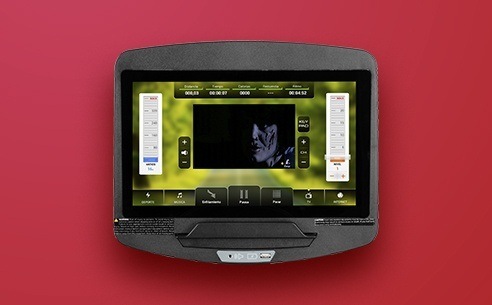 SmartFocus 16" (SF2000T)
Thanks to the fastest touchscreen technology in the market, the user will have access to all content and their training in high resolution. In addition, to ensure complete entertainment during exercise, you can also surf the Internet with maximum connectivity and share the progress in social networks. It is a good solution to manage the center as it allows to know which machines are being used.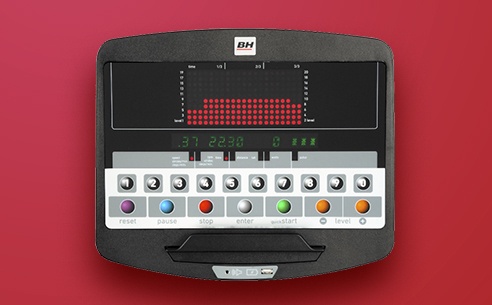 LED 16" (SK2000L)
For the most classic users, this line has an advanced interface dot matrix (LED) showing the profile of exercise throughout the training session. This LED monitor is completely self-generated and offers complete freedom to fitness center managers. It requires zero electrical cost and the option to distribute easily the machines in the fitness room space. In addition, the monitor is designed so that users get maximum performance easily from the first moment. All types of profiles and trainings are given with live monitoring heart rate to get the best training.
Technical Data
Max. user weight (Kg)
180
Pulse tactile sensors on handlebars
Saddle horizontal adjustment