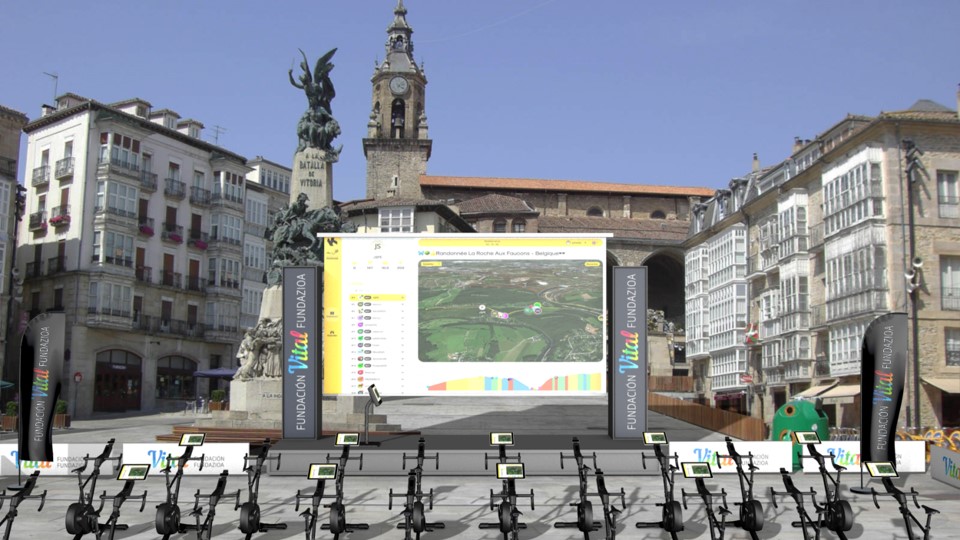 The Tour de France will arrive in Vitoria-Gasteiz on July 2nd. To celebrate the passage of the most prestigious and anticipated cycling event of the year through our city, Fundación Vital, in collaboration with the City Council and BH Fitness, has organized two initiatives: an original solidarity action and a series of conferences featuring individuals connected to the history of the French race. The activities were presented by Axier Urresti, Executive Director of Fundación Vital, and Livia López, Councilor for Sports and Health of the Vitoria-Gasteiz City Council.
On July 1st, one day before the peloton arrives in Vitoria-Gasteiz, the Virgen Blanca square will be the venue for a solidarity initiative in support of CaMinus, in which Fundación Vital will collaborate with BH Fitness. The proposal consists of simulating a section of the 209 km mountainous stage that connects Vitoria-Gasteiz and Donostia virtually and immersively using a giant screen and the technology of the Exercycle Smart Bike.
There will be 2 modes of participation:
a) "Experience the Tour!": 20 spots on Smart Bikes. This experience will allow participants to interact directly with the route, simulating its slopes and features. Each rider will be able to see the course on their device, and the giant screen installed at the Virgen Blanca will display the position of the race's peloton on the map, as if it were a live broadcast, establishing a ranking.
b) "Ride with the peloton!": Another 20 spots on spinning bikes that will surround and accompany the virtual peloton simultaneously.
Instructor Dani Lucas will liven up the activity with music and serve as a speaker to encourage the riders and add a festive touch to the day.
All participants will receive a high-end cycling jersey and a backpack with a water bottle, socks, and a towel as a gift. Additionally, there will be a raffle for a BH Exercycle Smart Bike valued at over €2,000 among all those who participate in the cycling activity.