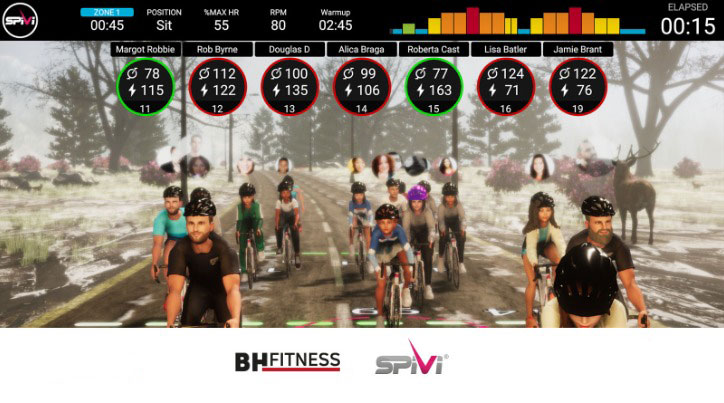 After a joint effort by both software development teams, a deep integration has been achieved between the most advanced indoor cycle consoles from BH Fitness and Spivi's data projection software for indoor cycle classes (Spivi Studio and Spivi MetriX). 
 
Indoor cycle rooms have evolved at an extreme speed to become spaces where a high level of training precision must be combined with the creation of unique immersive experiences. BH Fitness remains committed to offering its clients the opportunity to work with the best solutions on the market. 
 
In the words of Nir Hasson, Spivi's CTO, this work has reached "we have reached the deepest level of integration that Spivi currently has among all gym machine manufacturers." Through it, the BH Fitness consoles connect to the Spivi projection system to accurately transmit all the data from all the indoor cycle bikes in the room (RPM, cadence, heart rate, etc.). 
 
In addition, the integration also includes the NFC sensor of the BH Fitness consoles, which allows end users to swipe their card or contactless bracelet and register automatically and effortlessly in both the Spivi software and the training software of BH Fitness, Gymloop. This means that as soon as the bracelet is swiped, the user will see how their name and photo are projected on the screen in the Spivi system, without having to carry out any prior pairing process and, at the same time, all the session information will be stored. in Gymloop, so that his coach, and the user himself, can see his evolution. "This represents a significant improvement in usability and reinforces BH Fitness's commitment to advanced and easy-to-use technology," remarks Benjamín Arregocés, Digital Manager of the Spanish company.